The Pro Street Frame!

A Pro Street frame could be thought of as the spinal column of a pro street chopper. Selecting the right frame for your custom chopper is crucial to building the bike you dream of owning.
Before choosing your custom chopper frame, you'll need to understand what makes a metal motorcycle frame be classified as a pro street chassis. Pro Street frame is really an umbrella classification term which covers all those chopper frames which are designed with the super-low, long look that has become the rage in custom chopper design.
To be considered a Pro Street Custom Chopper at bike shows, your chopper should be designed with a low neck frame, a wide rear tire, and long front end. The chopper will have a low ground clearance and may be raked as much as 38 degrees or more. Orange County Choppers, West Coast Choppers, Big Dog Motorcycle and American Ironhorse are a few of the design and build shops that specialize in this type of chopper.  While many Pro Street choppers utilize a hard tail frame, other are build on a soft tail configuration. You'll find many designs which utilize either rear suspension option.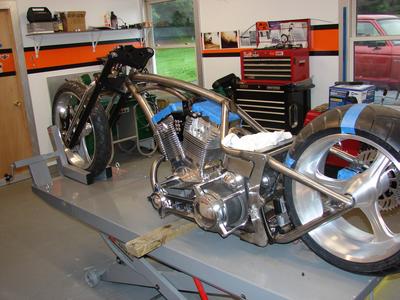 Now that you have an idea of what constitutes a Pro Street chopper, you can begin to look for the perfect Pro Street frame. There are several ways to go about this chopper build on the frame. One way to deal with getting a Pro Street frame is to have one of the big renowned shops such as those mentioned above or a similar local designer / builder. This option is going to be rather expensive and you can expect a finished price tag of $25,000 to $100,000, depending on the shop, design, hardware, and options you select.
Another option is to purchase a rolling chassis and build your Pro Street chopper from there up to a full motorcycle. With a Pro Street chopper rolling chassis, you get everything you need with the exception of the motor and transmission. There's less wrenching involved with this choice and you know the rake and center of gravity are optimized by the designer. You can purchase an engine and tranny or use one that you have in a stock bike or chopper. This option is reasonably easy to title and register as long as you save all your paperwork, receipts and other documentation such as OEM documentation. It can, however, be more challenging than some other options.
Bike-in-box kits are available which contain everything you need to build your radical bike built on a Pro Street frame. This option includes everything that you'd get with a rolling chassis but adds the motor and transmission into the kit. Because this option provides you with a complete set of OEM documentation, you'll have little or no problems getting your completed Pro Street chopper titled and registered in the state where you reside.
If you are ready for a bit more of a challenge, you can purchase the bare frame and build your custom Pro Street ride yourself.  You'll have a lot more work put into the finished bike, but you'll also have a sense of pride like nothing else. With this option, you can really go custom. You will have a bit more challenge getting a clear title and registration and you'll want to keep every tiny piece of paperwork for any parts, labor, or services incurred during the build to meet the requirement for title and tag in every state in America. But a builder's title can be done and is done more and more frequently so you'll want to find the person in the DMV office that has actually worked with a builder to title a full Pro Street chopper in the past.
If you want to tackle the biggest challenge in Pro Street chassis build, you can design and build the frame yourself or with the help of a local shop. If you opt for this plan, you'll really need to know your facts about Pro Street frames design and build so that your finished Pro Street frame chopper will have a stable center of gravity and roll safely down the road. With this opt, you can expect a few challenges at the DMV when you go to obtain your title and registration, so be super-careful to save every single item proving how and where you got every single nut and bolt in order to prevent problems.
Whichever option you choose, owning and riding a Pro Street frame-based chopper is a special feeling as your finished motorcycle turns heads and get looks galore. You can truly make a statement about yourself when you design and build a bike based on a Pro Street frame. 
Related Articles: