Weld On Hardtail Advice!
A weld on hardtail is an easy way to build a hardtail chopper without actually replacing your frame. You can use a stock frame to build a bobber or custom chopper and make your bike look and ride totally differently using this process.

A weldon hardtail can be purchased as a kit. You'll basically be completely removing and discarding the rear suspension since a hardtail is fully rigid. The back portion of your bike will be longer, the common configuration of a chopper or old-school bobber motorcycle.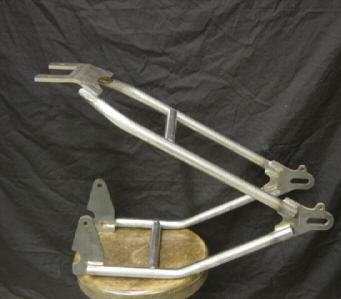 The hardtail pictured here is from
TC Bros Choppers
.
Before you decide on which weld on hardtail to buy, do your homework. Look online for photos, forums, and websites that provide how-to information about custom builds, especially the weld on rear. Post questions in forums so that you can gain information from the experience of others. Most people are glad to share they tips, points to avoid, and how they like the mods made to their motorcycles. Most riders are proud of their motorcycles and love to tell others what they've done to their rides.

At this point, you may be wondering what it will take to weld on a hardtail to a softail frame. Well, you are going to have to strip your motorcycle down completely to the softail frame. There's no short cut; it isn't a matter of just removing the rear tire and welding on a part. You'll need to cut off the rear section in order to add the weld on hardtail.

The completed hardtail weld on the bike below is from
Road 6 Customs
.
Some riders try to shortcut the process by lowering their bikes and attempting to hide the rear suspension, but this never provides the real look and certainly not the feel of a true hardtail. The weld on rear makes your bike a REAL hardtail, not a kluged up fake.
As with all things in life, you get out what you put in. If you take the time to strip and reassemble your motorcycle, you will end up with a bike you can be proud of. The cost of a weldon hardtail, even if you pay someone else to do the welding, is really not great. The work involved is far less than stripping a motorcycle down to bare bones and changing out the entire frame. So, why settle for less than you really want when you can use a weld on hardtail to change your swing arm rear end to a real custom chopper?