West Coast Choppers And The Outlaw Jesse James
West Coast Choppers (WCC) is a custom chopper company that is owned by the ultimate bad boy biker, Jesse James. WCC specializes in custom made motorcycles.
You can get a sneak peak at WCC on the Discovery Channel, among other places, as they appear on a reality type television show by the name of Monster Garage.
The crew of WCC are most famous for their custom made choppers. WCC makes motorcycles specifically for the consumer. Jesse James even said that he sets out to attempt to get into the consumers head in order to create their dream chopper.
Jesse has been playing around with bikes since he was ten years old and it is obvious that his 'fiddling' has paid off with the huge following, and inventive designs that West Coast Choppers has been able to come up with.
His "Bad Boy" image goes hand in hand with the publics perception of bikers, which boots curiosity even further.
Perfect Brand Synergy.
When you think of choppers these days you think of Jesse James AND West Coast Choppers. His amazing custom choppers and biker image have created a brand that is now recognized world wide...
You've got to admit, the WCC logo is really cool. Their apparel and  even the Jess James toy choppers are selling like hot cakes. I guarantee you'll see someone wearing WWC gear in your city or neighborhood this week...
If you think about the name Jesse James, his company name "West Coast Choppers", and his 'outlaw' image (and it's no fake image, it's real. Which really helps propel his company's mystique). It all makes sense. It's a perfect synergy of image and product branding that companies would crawl over broken glass to achieve.
And Jesse James makes even more solid moves...
Like many other chopper companies, WCC participates in the various biking festivals that occur across the country. With a large fan base and inventive chopper style WCC will continue to grow throughout the years. 
Jesse James crew make themselves readily available to the public by going to as many biking events as they can. Biketoberfest, for example, in Daytona, Florida is one of the biggest festivals that WCC makes sure to go to every year. By making themselves readily available to the public West Coast Choppers is gathering more business along with more respect within the biking community.
Jesse James has really produced an incredible company, and so long as his image and quality chopper products hold up (he even does custom auto work, and manufactures custom wheels for cars), you'll be hearing about him for many years.
What Most People Don't Know About Jesse James!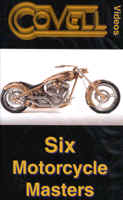 Rare Video Footage Of Jesse James Before He Was Discovery Channel Super Star. Plus, Lesser Known -- But Just As Creative -- Custom Metalworkers And Motorcycle Builders...

Six Motorcycle Masters: A special DVD professionally produced by Creative Metalworking, takes you inside the shops of master builders: Bob Thrash, John Buttera, Jim Nasi, Jesse James, Mike Berg, and Paul Yaffe. You'll see their amazing cutom creations, and much more. Click here for more information.
---
---
Here is where to learn more about West Coast Choppers custom fenders (Jesse James signature work is in his custom fenders, and now rims.)
Also, "Custom Choppers Report" is a free quality newsletter that contains all kinds of great custom chopper tips, stories, special deals, and much more. 
---
---