Reviews Of Chopper Classifieds and Tips On Buying and Selling On Popular Motorcycle Classfied Sites!
Online chopper classifieds and motorcycle classified's are a dime a dozen these days. So which ones are the best? What motorcycle classified's sites do you want to place your bike in first, and which ones are good for finding a deal?
Motorcycle Classified Sites and Buying and Selling Tips!
Whether you want to buy, sell or just browse, custom motorcycle and custom chopper classifieds are the place to window shop for used custom motorcycles of every make and model. If you are considering a sale or purchase, these motorcycle and choppers classified's can give you a good idea of what price to pay or what price to set on your bike that you want to sell.
Of course, the local newspaper is popular place to start looking for motorcycle classifieds. If you live in the boonies like I do, however, there are probably zero custom motorcycles or custom choppers in the local classifieds. In large metro areas, you may very well find exact what you want right in the local classifieds or have great success selling you custom machine via the local paper. Where I live, I really down 100 people would actually know what a classified that said "1999 FXST 6 OS forks". They would undoubtedly think I had six pieces of some weird kind of flatware purchased in 1999 for sale. The other 100 people would call just to touch base with someone else who understands the meaning!
If the local newspaper doesn't work for you, turn to custom and stock motorcycle classifieds such as Chopper Exchange (my first recommendation read this article called, Sell My Harley for specific motorcycle classified reviews), and Cycle Trader. Cycletrader.com provides a means of searching based on your specific criteria. If you go to the news stand, you'll find a Cycle Trader published that covers your region. Both new and used equipment is advertised in Cycle Trader and most classified ads for custom motorcycles have photographs. You'll find every make and model from vintage, stock to radical custom choppers and trikes to do-it-yourself kludged together motorcycles. You'll also find just as wide a range in prices.
Ebay Classified's is Ebay's new classified site. There are many chopper classified's like the one to the right, as well as all kinds of motorcycles for sale. It's definitely an alternative motorcycle classified stop. If found Harley's, V-Twin's, Choppers, and all kinds of European, Asian, and American bikes. There are custom motorcycles too.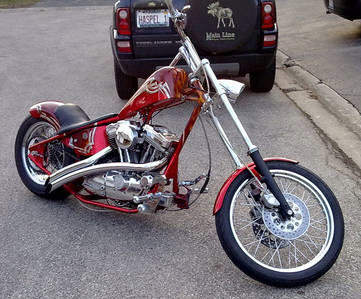 Ebay Motors is another motorcycle and chopper classifieds auction site. It's really a giant shopping site now. Not just auctions and classifieds. It's a hybrid of all them. There are lots of radical custom designs in these classifieds. The day I visited, there was a 2000 Jesse James signed West Coast Chopper CFL for sale. Starting price was $50,000 and the proceeds were going to charity. The value of this radical and awesome custom motorcycle was $80,000. It's enough to make a person drool! The other chopper classified in the featured ads that day that had a high drool factor was a 2005 Pro Street 250 Custom in blue. Stretched and just right, this soft tail was being offered for $30,000. Of course, there are lots of very affordable, great values available in much less showy customs as well. This site lists everything from 4-wheel ATVs, dirt bikes, stock rides to the radical designer custom motorcycles I've mentioned.
Vtwinbiker.com has a great chopper classified section for the American V-Twin bikes as well as parts and accessories. It's a great spot if you are trying to sell your custom motorcycle because the classified's are free! You have to register, of course. But other than that, you will have little if any problem navigating through the custom motorcycle classified posting process. 
At www.wheelbynet.com, I found a 2003 American Ironhorse custom chopper with 38 degrees of frame rake and 4 degrees in the triple tree, running 4 over stock forks that sounded really great, priced at $19,999. However, there were no pictures! There were no pictures anywhere! This site is for the custom motorcycle and chopper classifieds that reach serious buyers. There is owner contact information posted publicly, so it should be fairly easy to get a picture of a motorcycle that interests you.
At ChopperExchange.com I found custom motorcycle classifieds that listed some really great deals. This site covers all motorcycles, but a 1999 Kawasaki customized 1500 Vulcan jumped right out at me. The listed price was only $7,995 or best offer. There are quite a few other custom motorcycles listed in these classifieds that make it a very worthwhile stop. Visit the site and look at the pretty pictures too!
These are not by any means the only places to look for or list custom motorcycle and chopper classifieds. They are just a few that I wanted to share with you along with my personal impressions of them. Anyway, have fun with motorcycle and chopper classifieds whether you are buying, selling or window shopping.
Related Article: