Chopper Exchange Review!

In this Chopper Exchange review you will get enough information to make a decision whether you should list your bike for sale, or buy a bike through this chopper classified site. We found it to be a decent alternative to the top motorcycle auction and classified sites. It could be the only place you need to list your bike for sale, or buy a bike. So let me prove it to you!
If you are looking to buy or sell your used Harley or chopper, here is why you should include Chopper Exchange in your buying or selling efforts...
Chopper Exchange Review Part 1:
ChopperExchange.com comes up in the search engines more often than the other used Harley and chopper classified sites. Particularly for Harley Davidson motorcycles and chopper keyword searches.
Secondly, the Chopper Exchange site is very clean and easy to navigate which is very important if you are trying to sell your bike. If you look at all the other sites their layout is really hard to figure out, and one of them actually has advertisements that will take you out of the site; if you are spending your money on a site that is supposed to help you sell your bike, why on earth would you put advertisements on it that don't help your customers sell their bikes? Dumb.
Better Than Ebay?
Overall, the pricing is better than Ebay. And Dealers get great visibility for their dealership through their program which is better than Ebay as well. Ebay is still the number 1 spot to list bikes because of the sheer volume of searches they get. But it's expensive!
Part 2:
The only problem with ChopperExchange.com is that they don't have kit bikes for sale. If they do I couldn't find them. However it's not a big deal and you can find kit bikes from other sites like Ebay or direct from dealers.
75,000 Motorcycle Buyers Can't Be Wrong!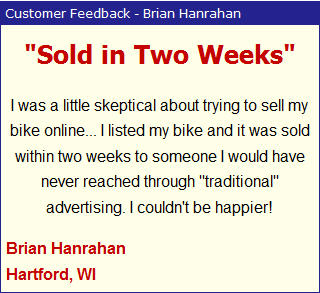 According to ChopperExchange you can reach at least 75,000 'serious' motorcycle buyers. I am sure some of that is hyped up to help them stand out, but even if they are 25% right, that's pretty good.
Chopper Exchange also has very well priced options.The best one being the Ultimate offer because they guarantee that your bike will sell and if it doesn't sell in 90 days they will
refund your money. And you have up to 12 months to claim your money. ChopperExchange has a proven track record of selling used Harley's and choppers, plus many other brands. And they have been around since 1999.
Part 3:
I know, I sound like I am advertising them and this is supposed to be a Chopper Exchange Review. But they should be one of your top 2 or 3 chopper classified sites to list your bike on. You may even want to use them exclusively for a test run. For quality tips on how to sell your Harley or any other bike read this article.
Here's What Chopper Exchange Motorcycle Sellers and Buyers Are Saying:
Through eBay - I got nothing but people trying to pull scam's. Through ChopperExchange - the people were sincere and we were able to complete deals on both bikes. 
Brent Hubbard - 5/14/2010 

The second time I used ChopperExchange.com to sell. Quick, Easy, SOLD! It doesn't get easier than this. 
Andrew Duffy - 5/13/2010
This is the 4th bike I've sold using this website. I won't do it any other way. Great site, great results. 
Gary Pitassi - 5/7/2010
After having no success with various other websites, a friend of mine who works for a Harley dealership recommended this site. I was receiving e-mails and phone calls within a day. Thanks. 
Doug Brent - 5/4/2010
I can't say enough. I received an offer the second day. No regrets. 
Glenn Little - 5/4/2010
It was great. We put it up last year on another website and we didn't get one call. We put it on ChopperExchange and sold it in 1 week. I had to get on the site to mark it sold because we keep getting calls! 
David Mrkonja - 4/11/2010
I liked the exposure I got from ChopperExchange. Over 1400 views in 4 months! I will definitely use this site again and have already referred both buyers and sellers. 
Robert Massey - 3/27/2010
Do you want to buy a Harley or another brand of motorcycle but don't want to get ripped off? We have tips on that coming up so get on our list.
Related Articles:
---
---