Are All Used Choppers For Sale Worth Their Salt?
Their are used choppers for sale online and offline, but before you jump in and look and buy a used chopper, read through this article because we just might save you some time and aggravation.
Maybe you want to buy a used custom chopper so you can strip it and make it into a cruiser that is completely your own, or maybe you are looking at used custom choppers for sale because you want to purchase a piece of motorcycle art.
Whatever your reason, there are several excellent ways you can go about accomplishing your mission.
If you want to find some real bargains, try visiting EbayMotors which is at Ebaymotors.com.
Find used choppers for sale on Ebay.
By they way, you should go to our page chopper frame jig and read the yellow highlighted paragraph on how to avoid being ripped off on Ebay.
You also might want to try visiting the Power Sports Net work. This is a web portal with tons of lists including lists of used choppers for sale, used custom choppers for sale, and dealer overstocks. You enter your search perimeters and then your request is interfaced with thousands of different choppers for sale.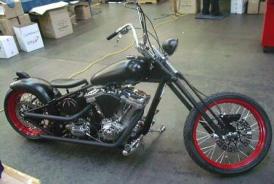 People also tend to look the obvious when they are shopping for used custom choppers, which is partly due to the influence of the Internet, but it does not hurt at all to visit your local bike shop to view their bulletin boards. You also might find a deal in the classified section of your newspaper. Also, almost every neighborhood in America carries a regional edition of Cycle Trader, which is a magazine that will tell you what is for sale in your area. You can also sift through the used choppers for sale section of Cycle Trader's classifieds online at www.cycletrader.com.
When you are searching for custom choppers or used custom choppers for sale (like the custom bobber to the left) there are some pitfalls that you should avoid...
First of all, unless you are a wrench-monkey who is planning to strip the bike for its pars and build a new one from scratch, don't buy a bike that is a fixer upper. Keep in mind that if you end up with a problem that you can't handle the average fee for a mechanic is about $60 an hour.
Unless you are an expert when it comes to fixing up older bikes, also try to avoid buying a chopper that is more than a decade old as the cost of parts for these machines can be outrageous. You are also advised to avoid machines with ground down foot pegs and old race bikes as they have probably seen a lot of wear and tear over the years.
If you are buying your first chopper, it is probably a good idea to avoid raked frames or bikes with ape handlebars, as they can be difficult to steer.
If you are a newbie to the wonderful world of custom choppers, you are better off to try and buy a chopper that comes with all of the original stock accessories.
Everybody and his dog is perusing the used choppers for sale ads in the Spring. This is because the hot summer months create vistas of wide open roads waiting to be burned by rubber in people's minds. If you want to get a real deal on a custom chopper try shopping for one in the fall, when the demand is less.
Related Articles:
---