The Chopper Frame Jig
Building a chopper frame jig can be a simple or complicated matter. It all depends on what kind of bike you intend to build and most importantly, how much of a rake you want to give to the angle between the back wheel and the front handlebars.
Building a jig can be such a specialized matter, that you can almost spend more time building the frame than the actual bike. Basically a chopper frame jig is a device that is used to hold the components of the bike together while the project is under construction.
New! Motorcycle Frame Jig Blue Prints!
You can order prefabricated chopper frame jig parts that are made out of a lightweight material but sometimes these jigs don't offer the serious enthusiast enough room for creativity. 
Also if you buy a prefabricated chopper frame gig, either new or use, you have to make sure that its measurements suit the manufacturer's original dimensions for your bike. For instance if you are using a Buell chopper frame then you would want to find a new or used chopper frame gig for a Buell, not a Harley which has a greatly different weight distribution to its frame than a Buell. The same goes for the "general' style of the bike.
For instance you wouldn't build a swing frame bike on a chopper frame jig that was intended to use for the construction of a soft tail style chopper.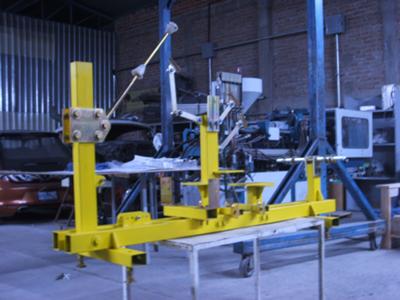 You may find a good deal on a jig on Ebay. Side Bar: And I recommend NOT buying plans that someone is selling on Ebay, or anywhere else unless they can prove they did not steal them. For some reason there's a lot of bikers or wanna be bikers stealing our plans and BCC Orlando plans (because they are good) and trying to sell them. Or, they may be copies, or they have inaccurate measurements (this is often the case), and you'll have to print them out, which is a huge pain. Get our plans. They are the best in the world. Get our plans. They are the best in the world...
Big tip: Be sure the seller is not selling for the first time. Take a look at the items they have sold already and make sure they have positive feedback on these items. The more feedback they have on items they have sold the better. There are scam artists that will buy 10 super cheap items in order to get a positive feedback rating and then after they achieve 10 or more positive ratings they go on to list expensive items for sale and rip you off once you pay them. Since they have positive feedback they must be legitimate, right? Wrong. Like I said, if they don't have any positive feedback on several items they have already sold you run the risk of being ripped off. Otherwise it's pretty safe for buying chopper motorcycle gear.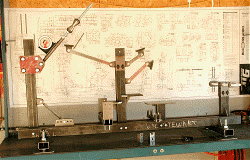 There are also some companies out there that sell pre-fabricated chopper frame jig pieces that you can use to adjust and constantly readjust to fit different kinds of bikes. This is the type of bike frame jig that you see in professional bike shops. The components of this type of jig allow you to adjust the neck rake, frame stretch and can accommodate thin or fat wheels. Unless you customize a lot of bikes in a year the expense of this kind of jig may not be worth it to you. They are expensive because usually they are made of commercial grade steel and come with a great assortment of detachable components. 
However searching for the perfect chopper frame jig can take hours and hours of surfing on the net, in which case you might want to build your own. Our guide "How To Build A Chopper Frame" goes over the steps to make a home made jig for your project. Although it's not nearly as comprehensive as actually getting chopper frame jig plans. It is well worth investing in a jig frame like this if you want the frame of your raked chopper to be as straight and accurate as an arrow that has hit the bull's eye. 
Related Articles:
Specialized Products & Info: