Planishing Hammer DVD Shows You How To Use It and What Kind of Planishing Hammer To Get For Your Projects!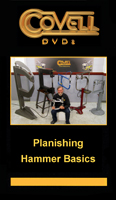 New DVD: Planishing Hammer Basics by Ron Covell - To the uninitiated, planishing hammers are the workhorse of the metal shaping process.  The hammers are unexcelled for both flattening welds, stretching flanges and working in constricted areas.
In this planishing hammer video (DVD), Ron demonstrates all the basic procedures for using the hammers, including choosing the proper die selection and operator techniques. He also shows their use on both steel and aluminum panels.
He also covers more specialized techniques too, including:
Riveting
Flanging
And making reverse curves
This planishing hammer instructional dvd shows seven different planishing hammers, from the bargain-priced entry level machines, through to both hand-held and vintage machines and the most professional available today.
This gives invaluable insights about the great diversity of these planishing hammers and which features are the most important for particular types of work.
Although these hammers are popular, there is very little information available on their proper usage and this planishing hammer video (DVD) will help give you a good foundation for both selecting and using the right machine for your needs.
---

GUARANTEE: If you honestly believe this DVD on how to use a planishing hammer is not everything that we say it is and you are not completely satisfied with it, return it within 30 days and we will refund every penny of your money with no questions asked. That's more than a guarantee, that's a promise.
---
54 minutes - DVD format
$39.99 + $4.95 U.S. shipping/handling...



International orders
$39.99 + $8.95 shipping/handling...
---
Save $12!  Order Planinshing Hammer Basics And English Wheel Techniques DVD's, and you'll get $5.00 off PLUS
Free shipping
Regular Price For Both DVD's = $74.98 + $7.00 shipping
U.S. orders -
Your Price With Discount = $74.98 + FREE shipping...


International orders -
Your Price With Discount = $79.98 + FREE shipping...


---
---