The English Wheel: An Exceptional And Very Useful Metalworking Tool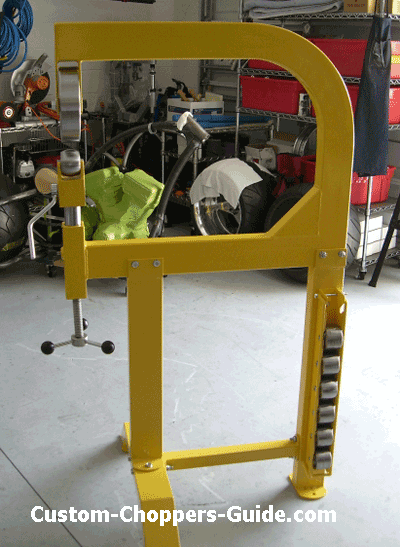 The English Wheel, commonly found along with a Planishing Hammer, is not necessary for building a chopper frame, but they are very helpful when shaping and smoothing sheet metal for other custom fabrication projects.
Says Rick Hedrick owner of BCC Orlando,"If you are attempting to smooth TIG welds, make your own one-off seat pan, fenders, fuel or oil tanks these tools are a must have. Using the English-Wheel is much like the artist and his or her brush - everyone will have a different style and result. There are some common 'base' guidelines for using it, but your style and success will come with continued use and practice."
The English Wheel moves metal so that you can form it to your own design. It's a brilliant and addictive tool that most people have a tough time cracking. You can even use it as a rubber stamp wheel, and it can also be used for embossing!
 
It's highly recommended that you get a guide to help you avoid many of the pitfalls and frustrations that metalworkers face when using it.
If you really want to become a custom fabricator and work with metal you may want to get one in your shop. So, where do you get them? You can get them at Eastwood. They have an award winning combo package that is very cool.
Or, you might do better on Ebay...


If you are interested in buying a custom chopper or motorcycle, you may want to read this article before bidding or buying anything on Ebay.
Related Articles:

Tubing Bender
DOM Tubing and Motorcycle Frame Tubing: What To Use.
---
---