The Great Triumph Choppers, Overshadowed By Harleys...
Triumph choppers are some of the classiest, old school-ish choppers you'll find. Harley Davidson has captured the hearts and minds of the world, but Triumph is a killer brand, and they don't get enough recognition in the chopper world.
Evil Knievel was being interviewed the other day and he said that his Harley would never hit the ramp straight and it would swerve at high speeds. But his Triumph was always "straight as an arrow".
He stayed with Harley Davidson because Triumph didn't have a sponsorship package...according to him. Evil knows a bit more about bikes, so I'll listen to his advice.
Maybe you should consider getting an old 60's or 70's Truimph and customize it? Hmmmmm...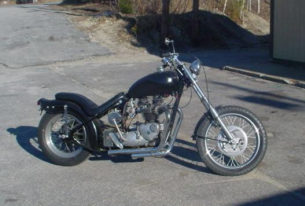 Triumph:
Triumph choppers are as old and as famous as Harley Davidson choppers, except that these sleek machines are more favored in Europe than they are in the United States. Most choppers are custom built to mimic the look of the Triumph motorcycle's models from the 50's and 60's. This is the kind of chopper that rebels and loners such as Steve McQueen, Marlon Brando and Clint Eastwood rode in movies of the same era.
Today Triumph is still the pride and joy of the British motorcycle industry. Their main production facilities are located in Hinkckley in Leicester England. The Triumph name dates back to 1885 when the founder of Triumph, Siegfried Bettman started adding motors to bicycles.
With the invention of the combustion engine in 1902, he produced the first powered two wheelers. Since then this company has produced many kinds of models including the very famous Bonneville, Thunderbird and Tiger series of bikes. To mimic the bold yet laid-back style of the Triumph, custom chopper builders will want to look for a frame that resembles a classic cruiser. This means that the seat is low-slung and features long forks for the wheels.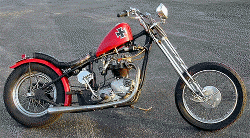 Another identifying characteristic of true Triumph chopper is a transmission that is separate from the engine. The most popular engine for a Triumph is a parallel twin engine. A parallel twin engine is basically where two cylinders run parallel to one another in separate chambers. Triumph choppers usually had a 360 degree crankshaft (this is where the pistons rise and fall together.) The In-line Parallel twin has more vibration, lower RPM and less horsepower than other In-line engines. Engine parts are readily available and fairly inexpensive.
So if you buy a bike and chop it up, you can be sure there are parts around to build a Triumph chopper. The classic Triumph transmission is four speeds. A rare option is a transmission called the "slick shifter". This transmission was designed for racing and allowed shifting without having to pull in the clutch. The unit transmissions that were designed for Triumph choppers were four speed models until about 1972, when Triumph began manufacturing a five-speed transmission. If you are building a bike one customization you might want to consider is swapping the four-speed transmission for the newer five-speed edition.
The bikes, motorcycle parts and motorcycle accessories that Triumph produces are widely imitated by companies who produce clones for sale in what is called the aftermarket. Reproductions of genuine Triumph parts or parts that have similar stylings can be purchased in the aftermarket so that you can build an inexpensive chopper that looks just like the real thing.
Other features that distinguish the Triumph motorcycle from other kinds of choppers are a forward mounted foot shift, chromed foot pegs, raked handlebars, a slab style yoke, slash cut mufflers, pillion foot rest hangers, an 18 inch front wheel, disc brakes and elaborate chassis trim. Vast ranges of accessories that reflect the enduring popularity of Triumph choppers are also available to purchase online from the company's catalog.
Triumph provides everything you need to customize Triumph choppers or motorcycle including custom-fitted leather saddlebags, sissy bars and the signature classic Triumph chassis trim.

Drawing inspiration from the past, Triumph motorcycles are classic machines that offer a rare combination of traditional styling and a kick ass attitude that is admired by custom built chopper enthusiasts all over the world.
Upload A Picture Of Your Triumph Chopper or Bobber
Simply upload a picture of your bike and tell us the details. The more the better! We might put you in a slideshow movie that tens of thousands of people will see!
Your Fellow Subscribers Triumph Pictures and Details...
Click below to see choppers and street bikes from visitors to this page...

Triumph 750 Bonneville Chopper!

I bought a stock 750 Bonneville a couple of years ago as a project bike. I wanted to build a raw looking chopper for bar hopping around town. Actually …
1958 Hardtail Triumph Big Bore

Long time build. 1958 Hardtail Triumph Big Bore. A 750 big bore with a 5 speed gear set in a pre-unit tranny. Springer front end with six spoke invader …
1970 Triumph Chopper

Well its been a few years of on and off progress on my 1970 Triumph Chopper TR6C project . The bike is now wired and the rear brake is finished, sissy …
Old school Triumph chopper in Lima Peru

This old school Triumph is a 1970's 650 cc Bonneville. It rides ok.
1962 Triumph 5ta Chopper

A couple of years ago I bought a bike in a box. A 1962 Triumph 5ta Chopper with a broken engine. I really enjoyed restoring this bike. I ended up selling …
Triumph Chopper Rebuild Project

I was looking for a project bike for this winter and found a 1968 Triumph chopper that had caught fire some years ago. So I picked it up cheep its not …
1969 Bonneville Part 2

1969 Bonneville Part 2: Holding down a regular job with w/e work also, progress is slow but moving forward. Sent the completed fuel tank to the best painter …
1969 Triumph Bonneville

1969 Triumph Bonneville: It came to me as a 1969 Trophy in a busted up frame and nothing mechanically operating. 650 Bonny Heads and 40 over with a complete …
Triumph Bonneville chopper T120R 1971

Triumph Bonneville chopper T120R 1971P Home Made as a project with my boy! Canada
Triumph Chopper Project

Well My name is Paul and I've been riding for a short time and ride a 2001 Indian scout now but my real love is for a good old rattle the bolts loose triumph. …
1970 T-120 650 Bonneville Triumph

My 1970 T-120 650 Bonneville Triumph: Her name is Black Betty and she makes me proud.
Triumph Rat Chopper

I started this Triumph Rat Chopper vision with a rigid frame for a Yamaha XS 650 frame, A 1972 T120r 650 motor and a very understanding wife. Needless …
OIF Triumph Hardtail

Current project being an OIF Triumph hardtail (OIF means 'Oil In Frame'). I used thread bar and machined cones for head tube locator also slotted and …
1973 Triumph 650 Tiger Not rated yet
From Sydney, Australia: This is my 1973 Triumph Tiger with hardtailed OIF frame. It was my daily rider for about a year before I had the hard tail welded …
1969 Bonneville Chopper Not rated yet
This is my 1969 Bonneville with a single carb on it. I'm just waiting for the tank to get out of paint. It's a 3.2 gallon sporty king tank. I just need …
03 Triumph Daytona 600 Motor and Transmission Not rated yet
I just acquired this motor and tranny from a 03 Triumph Daytona 600, need some ideas. I am thinking low and rigid. Having a hard time finding a frame. …
1969 Triumph TR6C Bobber Not rated yet
This is a 1969 Triumph TR6C Bobber I have been building for what seems like an eternity. It has a bold on rear plunger frame section which is stretched …
1965 chopper with 78 750 engine. Not rated yet
triumph 350 and 500 models did away with separate transmissions in 1957. 650's in 63. Forward controls are used on all choppers to gain legroom. The 5 …
1969 triumph Not rated yet
I picked up a 1969 triumph basket case. I am mechanically CHALLENGED!! But anyway I'm going to give it a try, lol. I do know I can take parts to chrome, …
Related Articles:
New Picture!
Copyright Custom Choppers Guide all rights reserved.