The First Chopper Bicycles Started In 1964?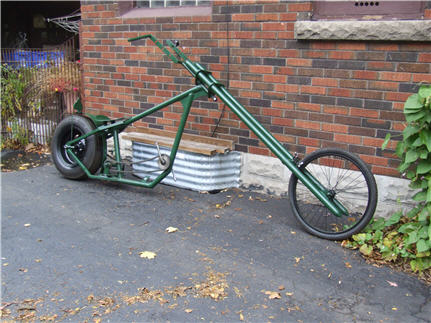 Chopper bicycles are widely available these days. Chopper bikes are a mix in style from the bicycles of the 1950s and the Raleigh choppers. Some have gone as far as to describe chopper bikes as mini Harleys, or Harleys with petals.
In the 1960's it has been rumored that the Huffy Bike Corporation was looking to make a chopper bicycle. However, this never came to fruition.
A man, named Al Fritz, who worked for Huffy's competitor, Schwinn Bicycles had been out in California. He had studied the first "choppers" and thought it might be a good idea to cross the bicycle frame with key elements that choppers had. When Fritz returned to Schwinn headquarters in Chicago, the company heads were not impressed.
Fritz felt that the chopper bicycle would be a great asset, so he continued to work on his concept.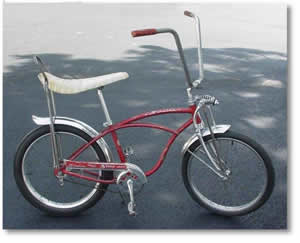 Finally, his hard work and dedication paid off, in 1963, when the first Schwinn Stingray was produced (above is a 1964 Stingray.)
With a polo seat, the Sting ray was 20" long. It was the first chopper bicycle created, and the rest is history.
Now chopper bikes are being designed by large manufacturers and hobbyists in their garage...the best ones. The designs are creative and unique. Chopper bikes are definitely a good way to stand out from the crowd. Everyone is sure to notice your bike.
At first, chopper bikes may be underestimated, but the minute people see you riding around on your new chopper, they are sure to take notice.
Many people may even want to build a chopper bike of their own...
When looking for a chopper bicycle you have a few choices for how you want your chopper to look. One option is to build your own. By building your own custom chopper bike you are ensuring that it's built to your exact specifications. If you know a lot about chopper bikes, and have a clear picture of how you want your chopper bike to look, then there are bicycles for the more advanced chopper rider. If you have no prior knowledge of chopper bikes, but think they look sleek and want one of your own, then there are chopper bicycles for the beginner rider.
Should you decide to build your own custom chopper bike there is a full line of parts available. You can find out the various sources on and off-line that are available at many chopper dealerships. You can try your local bicycle dealers or do a search on Google or Craigslist.
Or you can try Ebay.
There are a wide range of styles available to you when you are looking for a chopper. The frames of the chopper bike are usually about the same in structure. The chopper bicycle frame varies mainly in length. As the sleek look of the chopper bicycles are somewhat universal the most important aspect you should focus on is coming up with an original design concept. By designing your bike you are adding your own personal touch to how your chopper bicycle is going to look to make the design one of a kind.
With a little work and effort you will end up with a chopper that people will be envious of and a nice little ride for you.
My New Green Chopper Bike Built From Home!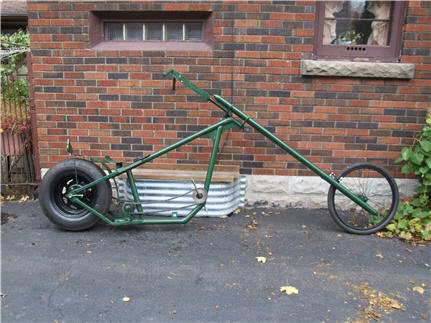 By James R. Pollard 007. 
Dundas Ontario Canada.
I have been working on my own chopper bicycles and bike building since last year for 8 months now. I have been doing a lot of work in my own welding shop here at my house. I was doing the plan work according to the blueprints that I bought, a rigid bike plan from Florida. They have sent it to me in the mail, and I got it started. The measurements were very confusing. I thought that it was really complicated, and it looks like metric sizes instead of SAE designs as it is should be in drawings :)
I got to work in my shop and planned it out. All the steel materials I had brought up to my house from work and get started to build it up. I welded for long periods of time and it drove me crazy. The work I had done in my own welding shop got all mixed it up, and I started it over again, and I did it right at the moment. It looks like a triangle to me, but it sure does make for a mad world of welding and bike building ideas at my own shop here in Dundas Ontario Canada.
I got it all made until the end of October and it took me for 8 months to build my own new green chopper bike at home, and I happily got it made on time, before this year. How's that :-)
James 007.
---
---
Upload Pictures Of Your Bike And Describe It!
Simply upload a picture of your bike and tell us the details. The more the better! We might put you in a slideshow movie that tens of thousands of people will see!
Your Fellow Subscribers Bikes...
Click below to see bikes from visitors to this page...

OCC chopper bike, stretched, raked and lowered.

Took a occ chopper bicycle and customized it.
2005 Schwinn Spoiler

Here's my version of the Schwinn Spoiler, so far. I've added the 130/60-16 Michelin racing slick, then the front 24 x 3.00 Thick Brick. They barely fit, …
Electra Straight 8 Cruiser 2006 Not rated yet
This Electra Straight 8 Cruiser 2006 is a head turner and it's saved my life! I feel like a kid again on my "Sting-Ray" I sing out loud, take chances, …
---
---
Related Products And Articles:
---
---
---