Getting A Grip On Chopper Handlebars...
No matter how stripped down your custom bike is chopper handlebars are a must -- It doesn't matter if they are high, flat, twisted, raised or just plain weird. You have to have killer motorcycle handlebars to make your chopper or custom motorcycle cool.
Most custom bike builders achieve the effect they want by finding a used pair of handlebars or "retro look pair" on the Internet, or a salvage yard. They then hammer, bend and weld these treasures into the shape that makes their chopper look the coolest.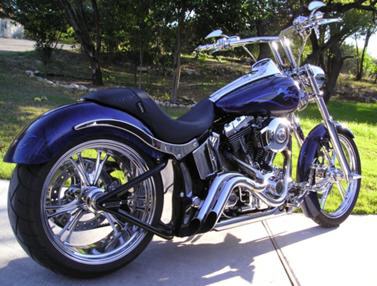 The picture above is from one of subscribers custom jobs. A 2005 Deuce FXSTD. Notice the killer custom chopper handlebars.
The trendiest "look" are high handlebars that make your chopper look like a banana bike from the sixties. Perhaps this is why one of the best places to find unique handle bars to customize your chopper might be old bicycle shops and online aftermarket sources for bicycle parts. A low slung bike looks great with high handlebars. 
One good place to find twisted, flat or unusual sissy bars is http://www.aztlanbicycle.com/newproducts.htm. The idea is that you want to look like you could perform a wheelie any minute. 
Another great place to find custom parts and vintage looking bike and chopper part is http://www.coolretrobikes.com. 
Aeromach is a reputable company that specializes in developing chrome parts to help custom builders achieve that vintage Harley-like look. Aeromach's selection of handle bars are made from 6061-T6 extruded billet aluminum that is polished and chrome plated. All of their Harley parts are made to install easily without having to drill or cut your bike. However this type of product may not interest you if you are the type who likes to twist, hammer and bang your chopper handle bars into an unusually broad or high shape.
If you are a Harley motorcycle purist than you should check out the handlebars at Tejas Thump. They sell lots of scary looking Harley additions including spikey handlebar grips and "Killer Spike Mirrors" that you can attach to your chopper handlebars. If you want to see a great photograph of a pair of classic high rise handlebars and how they look on a chopper go to http://sturgiszone.com/picsphotos/bikerbabes/bikerbabes2004july12.html.
If you aren't that handy with a blow torch and a hammer then you might want to consider farming out the bending and shaping of your chopper handlebars to experienced professionals.
If you want to check out the kind of thing that a real genius with welding tools can accomplish then go to ww.viciouscycleworks.us. Here you will find plenty of photographs of handlebars as well as all kinds of chopper handlebars for sale such as vampire handlebars, ape hangers and raptor chopper handlebars. 
If you are interested in searching the Internet for a really unique pair of chopper handlebars, check out the auctions and classifieds that are listed on Ebay and at www.bikersites.com. Here you will find plenty of resources that claim to sell one of a kind or exotic handle bars.
Purists will tell you that the higher the bars are, the better. Ape Hanger Handlebars are very extended. If you are just building a chopper for show, then you don't actually need to have handlebars that have great steering. In that case, you can raise the bar on your design as high as you want. However if you intend to drive the thing you might want to sacrifice height for a little bit of practicality.
Related Articles: