What To Look For In Motorcycle Frame Blueprints...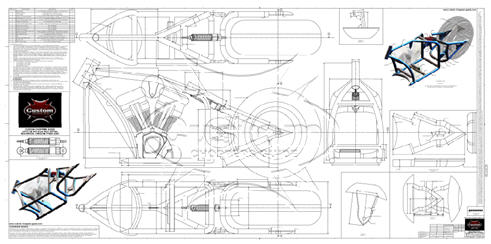 Motorcycle Frame Blueprints: Simple Guide to building a Customized Chopper. The young, the bold and the daring have one thing in common, they all love choppers.
Every chopper lover has at one point or another thought about making a customized chopper. Let's face it, they are the 'ultimate toy' and they fascinate onlookers.
Most motorcycle enthusiasts back off when they are confronted with building a motorcycle frame. A frame is the first thing that has to be made, and it is the most difficult thing in the entire process of chopper building. But it's also one of the most rewarding aspects of the building process.
Availability of motorcycle frame blueprints is therefore great news for all those chopper maniacs who find building a chopper motorcycle frame too hard to handle. 
Another important thing is that anyone wishing to build a chopper must have a motorcycle frame jig. A jig is of utmost necessity while building a customized chopper because it ensures that the chopper has perfect symmetry and correct angles.
Motorcycle Frame Blueprints: never was frame building easier.

Building a motorcycle frame and getting the angles and alignments wrong are a chopper lovers' worst nightmare.
But with motorcycle frame plans the fear of getting the measurements and the symmetry wrong is a thing of the past.
Almost everything that needs to be done with the frame is clearly laid out in precise motorcycle frame blueprints.
The various innovations that people like to incorporate in their choppers may also be taken care of. For example there may be a provision to build a Harley Davidson based rigid chopper frame and at the same time accommodate a 280mm or a monster 300mm tire.
Most motorcycle frame plans (or blueprints) are designed by AutoCAD and are extremely accurate to say the least.

Good motorcycle frame blueprints allows a person to build any type of chopper motorcycle that he or she envisions. Be it a softail swing arm, a big and tall chopper, or a low and fat pro-street, there may be a provision for everything. Right  from the portion of the engine to the mount layout, everything is there in the motorcycle plans.
Since builders with hands-on experience do the design (but watch out of fakes and copycats), this makes chopper frame building easier.
Motorcycle frame plan (blueprints): information in detail.

It has been said that many chopper frame blueprints are basically developed from the designs of vintage Harley Davidson motorcycles. After correcting the various discrepancies and factory errors, it is drawn with the help of CAD. Modern designs and innovations are also taken care of in the drawing. 
For example, rear wishbones may be opened to allow wide tires, and the design may accept Flathead, Knucklehead, and Panhead engines.
What's the most popular design?

Apparently, of the many designs available, the conservative old style rigid chopper with 2 inch of backbone and 4 inch of downtube with a 35-degree neck rake, is quite popular. Designed to accommodate big motors, modern tanks and axles, this type of chopper is also very cost effective if you are considering mass production.
The bottom line is that you should use motorcycle frame blueprints and build or buy a motorcycle frame jig if you are serious about building a custom chopper.
Related Articles:
Motorcycle Frame Plans (Bobber Chopper Style)
Cost Of Materials: Frame Build and Motorcycle Lift
---