Custom Motorcycle Imports Versus American Made Iron!
There are some great custom motorcycle imports available, so remember that they don't necessarily have to be Harley Davidsons, Buells or Indians. Imports make great custom choppers as well. With the reliability of imports and the lower prices, you can design a custom motorcycle import project much more quickly than saving for, let's say, an American Ironhorse Custom job, or a Jesse James Signature custom.

My second motorcycle project was a Triumph, one of the more respected imports. This project ended up looking very close to a Harley if you didn't examine the engine too closely. In fact, this became a bit of a problem over time.

The local biker crowd, you know, the ones wearing MC colors, had a president that rode a Harley that looked really close to this custom motorcycle import ride. In fact, in the dim light of street lamps after a few drinks, it looked EXACTLY like his custom motorcycle to someone - someone who didn't particularly like him. They stole the custom import ride right off the street across from the cop shop, no less! I got the custom motorcycle import ride back though, and without any damage.
Too many folks think of custom motorcycle imports as the cheesy 1970's Honda ape hanger sissy bar jobs. You remember those? No rake and long forks made 'em look pretty funny. Today, imports are just as classy as any American made brand, it all depends on who put it together. 
A 2003 1500 cc Kawasaki Vulcan changed into a custom import can be had for under $9,000 and we're talking about a hot looking ride here. This import custom job was very classsy. Sure, American custom motorcycles are great, but where are you going to find a value like this? For a 2003 American custom ride, you will probably pay in the $20,000 range and upwards. 
If you want to put together your very first custom build, you really should consider creating a custom import. You can learn a lot about custom motorcycle building at a much lower cost. The custom motorcycle import project can be every bit as much fun as building any custom chopper. You might very well find that you enjoy building custom motorcycle imports enough to stick with this angle of the motorcycle world.
The speed, reliability and fun of this project will give you a ride that will look great, ride with the best if well done, and give you lots of return on  your investment. You can always build your first custom import motorcycle, sell it and build another bigger and better project. The next thing you know, you may very well be renting a shop to build custom motorcycle import project commercially. After all, Jesse James started by building a chopped bicycle; you could potentially become the import world's Jesse James!
Custom Motorcycle Imports and Project Bikes!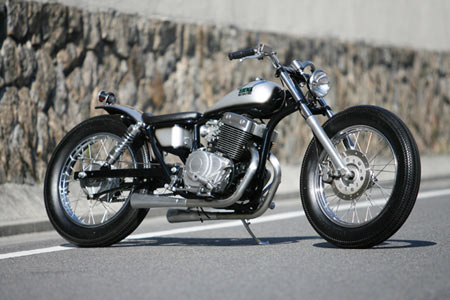 If you are looking for a custom motorcycle job, why don't you look at the custom motorcycle imports? They are certainly reliable, quite a bit of fun and much cheaper as well.
Moreover, there are many choices available when it comes down to custom motorcycle imports, they don't have to be just the big brands like Harley Davidson or Indians. It isn't a bad choice to import for custom choppers as well, by the way. The thing about importing is that you can easily find reliable custom motorcycle imports and at much cheaper costs and design a custom motorcycle import project much more easily than, suppose, if you were trying to go for some big brand custom job while importing is most certainly going to be as good if you just know what you are doing. 
Many people are reluctant to go for imported bikes because when they think of custom motorcycle imports they think of the old and uncool Japanese models with custom jobs which used to even look funny without rakes and long forks. Today, import custom motorcycles are just as stylish and cool looking as the American ones as long as it is done the right way by the right person. 
Disadvantages.
The biggest advantage of going for an import is of course the savings and economy which can even go down as far as fifty percent in some cases especially if you are particularly careful about how you play it all out in your cash conversion from the country of export to the country of import.

The downside on the other hand is that you might have to deal with a little bit of paperwork here and there, some bureaucratic problem, some document related issues, it might take a bit longer than your normal custom job as well.
But really, when you look at all the benefits you get from custom motorcycle import, if it is much cheaper, if it perfectly suits your needs what is a little time and effort spent on it? 
As somebody pointed out over the internet a "2003 1500 cc Kawasaki Vulcan changed into a custom import can be had for under $9,000" and it becomes an extremely classy ride. While on the other hand a similar American custom motorcycle would end up in the range of something around 20,000. So, yeah sure, American custom motorcycles are pretty great but don't you think the import becomes a bargain if we were to do that in its stead? Indeed the American custom motorcycles are great, but where are you going to find a value like this?
Big Name Imports?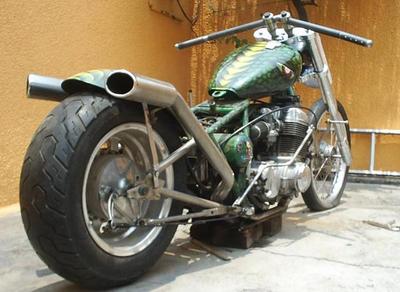 Japan is a big name in tech industry and it has been giving some great motorcycles for a while now. Start talking about choppers and sooner or later the Japanese brands such as Yamaha, Honda, Kawasaki and Suzuki would arise. They are perfect and particularly cheap when it comes down to choosing a model for custom motorcycle imports project and it goes without saying that they are extremely reliable too.

Imports would be an especially great choice if you are looking to build your first custom motorcycle. Not only would it be as much, perhaps even more, fun for you as building any other custom but you would also learn more and all this at a much reduced cost as compared to an American build. It is entirely possible that you might end up liking to stay in this particular side of motorcycle building permanently. 
If you can successfully do it, it would not only give you the perfect returns on your money but that as well quite quickly all the while the end result would leave you satisfied by giving you the kind of beauty you require on the road to ride.
Moreover, there is also this perfectly plausible for you being able to sell that imported bike which would allow you to start and create a much bigger and better custom motorcycle import project. Who knows where it might take you if you were to do that perfectly. After all that's how some of the big businesses kicked off. 
By the way, you would find the following tips pretty helpful when you are importing custom motorcycles or any motorcycle for that matter. So be sure to take a look at them: 

The first and the most important thing is that you check the regulation for motorcycle import into your country and ensure that when you do anything, make any purchase and go through the whole process, you must comply with them or it would be a whole lot of trouble for you.

Next comes in the importer. Motorcycles should not be shipped in single units as shipping charges per motorcycle would become too high. So it is pertinent to find some importer, owner of a shop or dealer who may be interested to import your motorcycle along with other motorcycles.

Next step is to look for a popular, experienced and trustworthy exporter who can export motorcycles into your country. It wouldn't be much of a trouble to do that since you can easily find them on internet by going to some used vehicle websites for the country from which you intend to import. Check their details extremely carefully to be sure they are genuine and reliable before you do anything else.

Once you have done that you can contact them to carve out the details of the deal. Inform them of which brand, model and how much price you prefer and they would inform you of their terms and payment details.

You might also have to make an advance payment of some small amount.

Exporter will do the necessary formalities and export your custom motorcycle to your destination port. They would also send the documents to you by courier and you can get ready to enjoy riding the bike of your dreams.
Related Articles: