A Look At Honda Chopper Frames.

Honda has been making a bike that might be compared to a chopper. It's called the Honda Fury, and some say it is the first production chopper by any of the big motorcycle manufacturers, while it has been making cruisers for quite a while as well.
A true chopper is a bike that has been stripped down, chopped, and raked out. The most important thing needed to make a chopper of your own, one that actually reflects your individuality, which is the whole point of making a chopper? It is the frame.
Again for those who don't know, let me try to define a frame. There might be a lot of complicated definitions out there but if we boil them all down it comes down to this: A frame is a carrying apparatus that holds all the parts of the motorcycle body together.
It connects all of them and makes the bike do what it is made to do: be driven with proper balance.
But a frame does more than that, it also determines how a chopper would appear in its final shape and how it would carry and handle itself.
These things are also incidentally, the most important thing when one is deciding about a chopper so it is extremely important that the frame should reflect the taste and choice of the builder or the individual user.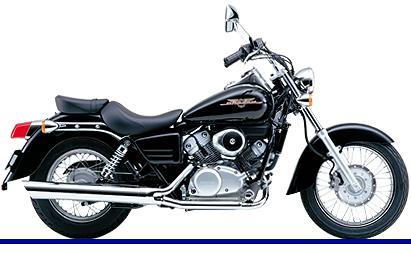 The frames of Honda choppers are made in a way that leaves room for a lot of tinkering. Fitted with a V-2 engine, Honda choppers can be the object of envy for any chopper lover and it's not only the way it looks but also that they can withstand a lot of wear and tear.
As already said choppers are all about their 'cool' appearances so the frame is, arguably, the most important part of the chopper. While Honda has a lot of designing potential and this makes both a perfect match. The Honda frames have the potential to turn from a normal looking bike into an absolute beauty. 
A Honda Rebel, which has low compression and a chain drive powered by five speed transmission, is much easier to dabble around with. Other things to love about Honda Rebel are its great mileage, balance and superb control.
Another thing which might make one go for its frame is the fact that its seat is lower than many of the other motorcycle models out there and it is such that one might not even need to modify the seat to make it any lower. 
At one time the Honda frames were thought to be a bit too average looking but their amazing potential to be designed and incorporated into different appearances has made the bikers around globe fall in love with it. 
Some Honda motorcycle frame are not especially big and slightly modest in appearance, which has made it prone to some criticism by people, however, the stripped down frame can be modified for a hardtail quite easily.
What's a Hardtail?
A hardtail frame is one that has no shock absorbers. It's 'rigid' (another term used to describe a hardtail is a 'rigid' frame). 
Some would say that a true chopper is a rigid chopper since that is mostly what the bikes were when bikers first started to strip down their bikes in the 1940's. They are lighter and can be more nimble depending on how the frame is modified.
CB 750 Before:

CB 750 After:

How They Handle.
The design of normal Honda chopper frames is such that it gives a lot of confidence to the first timers because it allows the rider to sit very low on the bike which gives them more control over the bike while the light frame makes Honda choppers very easy to wade through heavy traffic.
Not to mention that Honda chopper frames are also particularly less expensive as compared to other frames and choppers though this comes at the cost of being able to bear slightly less load.
A great thing about Honda motorcycle frames is that they are well formed and strong which is something that almost every biker liks because it gives a lot of room for making modifications in the frame. It is the chopper frame which determines how a chopper would look like, after all. Honda chopper frames are so well designed that a great custom chopper can be built around it.
With the height of choppers decreasing and the clearance from the ground getting lesser and lesser, this is one provision that chopper lovers should look into in terms of tinkering and customization.
The bottom line is that Honda builds killer motorcycles, and therefore make killer Honda chopper frames. Taking a CB750 and converting into a chopper might be a good project for you, or if you don't want to get into customizing and ou want a solid Honda chopper, you should look into their bikes.
Related Articles:
---