Why Bike Building Also Builds Minds!

Canada - Bike Building "At Risk" Students Build "Best in Show" Chopper. Here's the story...
I could have never thought, when I was 4 years old my Dad put me on the first motorcycle I would ride, that it would become a life long passion. Hardly able to reach the pegs and not able to reach the ground, he made me stay on that thing until I learned how to ride. That is when he passed on his passion for the motorcycle, I always knew I had pass it on.
My name is Marc Mazerolle, the kids call me "Mazz" and I run the Bernice MacNaughton High School Bike Klub in Moncton, New Brunswick, Canada.

In 2004 I started an after school bike building program at the school where I teach. It started out as a way for me to teach myself about motorcycle building and like many builders, we started out with bicycles, mostly because they were cheaper, parts were easier to find and interchange and you could get very extreme without worrying about any high speed accidents.
Once some kids saw what I was doing (bike building), they asked if they could stay and help me build bikes. Two kids became four, four became eight and before you knew it, I had a little group of bike builders. In the fall of 2004 we made it legit and formed the program.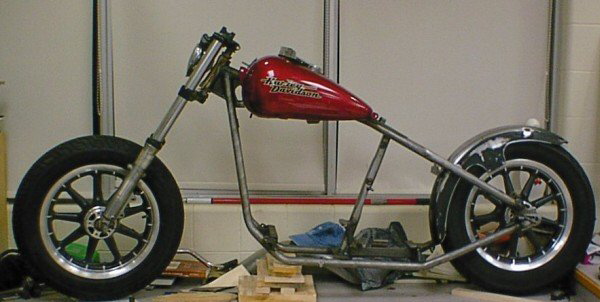 Most of the kids coming to me were labeled "At Risk" or "Introvert". At Risk can mean many things, the kids are at risk of dropping out of school, they are at risk of going to jail, they are at risk of living on the streets and at risk of suicide.
"Introvert", are kids that are closed, they think inside themselves and very seldom share their ideas or put them into reality. Actually seldom are they given the chance to put them into reality.
The bike building program was lacking a name, going over and over with the kids to come up with a name, we could not decide. In the meantime we just called it "Bike Club", and then one day at a meeting with the kids, we decided why not just call it what it is, "Bike Club". We needed to give the name some sort of identity, all the kids and myself had a passion for Hot Rods and Nostalgia Rods so we simply changed the "C" in club to a "K" and we became "Bike Klub", to be specific, the Bernice MacNaughton High School Bike Klub of Moncton, New Brunswick, Canada.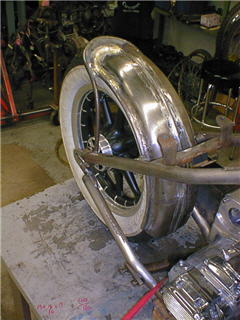 Our first custom bicycle, a nine foot long low chopper style bicycle we called "Wendy", got some notoriety in Canada. We made it to a couple of newspapers and some magazines and then the TV News. This brought us to be invited to the Canadian AMD (Custom Motorcycles) Championships in 2006, 3200 miles away in Alberta Canada. We fought and scraped and along with the help of the show promoter, Belt Drive Betty, we managed to send 7 kids and 2 chaperones (including myself) to Alberta for the show. While there, a motorcycle parts distributor, Mid-USA, donated a 55 inch rigid frame, bobber style, they put a challenge to us to build a motorcycle, we took that challenge, at the time with both eyes shut, tight!
Long story short, 32 months later we finished the bike build and had a little bar hopper style bobber with a bunch of emails, phone calls, letters and begging, borrowing and maybe a little bit of stealing.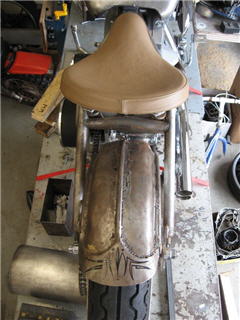 Merch Motors donated a 114 Fatso V twin motor with 140 plus horsepower and 170 plus torque. Folks like Performance Machine, Corbin, Crane Cams, Exile Cycles, Matt Hotch Designs, Goldammer Cycle Works, Avon Tyre , Crime Scene Choppers and Mid-West Motorcycle supply along with dozens of local sponsors like Deeley Harley Davidson Canada chipped in to help us in our bike building efforts.
In March of 2009 we traveled to St Paul Minnesota for the Donnie Smith Bike Show to compete in the Donnie Smith Chopper Class Challenge, to the best of my knowledge it is the only competition in the world that pits High School custom bike builds against each other in a very healthy environment. Promoter, Scottie Ard, was excited to make this competition truly international by having the first and only Canadian Chopper Class participate. 

The Bike Building Result?
The result? We won the top two prizes, Best Overall and Technical Merit awards, along with this, our bike, "Betty", named after Belt Drive Betty, was entered in the open classes and in her class of Hard Tail Evo, she won 3 Best in Show against 8 other bikes built by Master and Pro builders.

Betty is a bar hopper done in the 50's Hot Rod style. The pictures on this page are some of the bike building stages we went through to build her.
She has the 114 Merch Fatso, an Ultima 3 inch open belt primary, an Ultima 6 speed transmission, Performance Machine four piston caliper front brakes, an Exile Cycles "Sprotor Kit" for the rear brakes, Avon Gangster wide white walls and a 1957 Buick Roadmaster paint job by Goguen Custom Painting of New Brunswick.
The students hand built the rear fender, the oil tank, the piston turn signals, the steel dice nuts that holds the seat springs down, they did all the mods to the fat bob gas tank and they built every single mount, bung and bracket on the bike.
In June, at our local major motorcycle rally, Atlanticade, we won "Coolest Bike In Town" the people's choice award. Currently, Betty is in shakedown, we are fixing up a few minor problems so she will be ready to go to her new owner.
After I subscribed to the Custom Chopper Guides courses, I learned a lot about building choppers, this important bike building information was quickly passed on to the members of the Bike Klub and will be passed on to my Motorcycle Fundamentals class, which is a class I will be teaching in the spring 2010 semester at my school.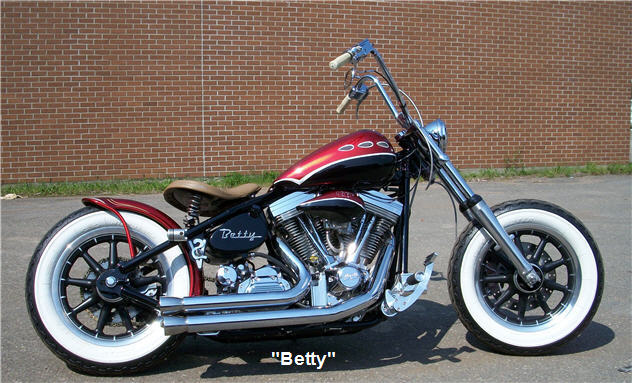 Finally!! This brings me to our current bike building projects! The klub is currently working full time on the next Donnie Smith Chopper Class Challenge build. The bike will sport a British Cycle Supply rigid frame and gas tank and the power will come from a 1967 BSA A65L motor. I figured it was time for the kids to realize and understand that not all cool bikes out there had to be V Twins or had to be American made, not that there is anything wrong with American made, just saying, the British bikes are pretty cool too and very different.
We are very excited about this project we call the bike, "A Voodoo Woman Named Phyliss", long handle, yup, but it seemed appropriate as she is a long, skinny and tall.
If all the bike building plans fall into place, Phy will have 21 inch wheels on both the front and the back, she will sport Avon Speedmasters. She will have at least one drum brake, we were hoping for two but it's difficult to find a hub that will allow for the drum on one side and a sprocket on the other and still maintain a 21 rim, maybe someone out there can help us with that? We wanted a ribbed rear fender, something very skinny and short. Without having the money to buy or have something made, we made one up ourselves, along with this the gas tank is being ribbed as well.

So far, our sponsors on Phyliss have been; British Cycle Supply, Baas Metal Craft, Guilty Customs and Nash Motorcycles. We are grateful for all the help we get from our wonderful sponsors. We always do all we can to pay them back with as much advertising and shameless promotion as we can stuff into a 12 month bike build!!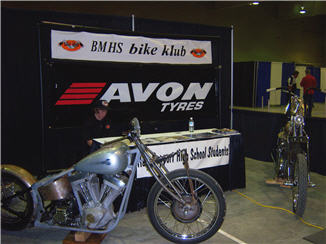 Our second motorcycle build is another Harley based bike, this time a soft tail. It has a Tripoli soft tail frame and will have a Kiwi Indian Motorcycles leaf springer front end. Her name is "Roxanne" as one of the kids was singing to the radio, the Police song, as we started the dry mock up, the name just stuck. With some luck, she will sport a shovelhead motor, five speed tranny with a kick start only. She will have a Chica Custom Cycles rear fender, just to name a few items so far.
Our bike building sponsors so far are Kiwi Indian Motorcycles, Chica Custom Cycles and Paul Perry, formerly of Tripoli Frames in Alberta Canada. We still need a lot of items for this build. We do not have a motor yet for this build, the motor in the pictures is our "mock up" motor and cannot be placed into a registered machine as per the sponsor's conditions.
We will be updating this regularly to let all of you know how the build is coming. Our goal is to become the first high school to win back to back wins at the DSCCC.
Because the Bike Klub is an after-school bike building program, we receive no money from the School Board, School District or our own school. All money and parts come from whatever we can raise during various fundraisers and the generosity of our sponsors in the way of parts or service.
Also, the kids and who am I kidding, myself as well, love to wear t-shirts and shop shirts from all over the world. This gives the kids and I a very distinct identity at the school and our community so if any of you would like to donate some parts, service, hats, t-shirts, decals, posters anything, we would deeply appreciate it.
Send any inquires to: BMHS Bike Klub

C/O Marc Mazerolle - Manager 
Bernice MacNaughton High School 
999 St George Blvd 
Moncton, New Brunswick, Canada E1E 2C9
Call Mazz at:
School: (after September 1) 506-856-3469 
Home: (anytime) 506-856-6014
Email: marc.mazerolle@nbed.nb.ca
Website: bmhsbikeclub.zoomshare.com
Have Any Words Of Encouragement or Questions For "Mazz" and The "Bike Klub"
Ask a question or leave words of encouragement for The "Bike Club" or "Mazz"!
What Other Visitors Have Said
Click below to see contributions from other visitors to this page...